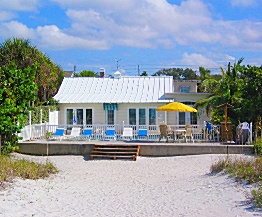 WELCOME BEACH LOVERS!

Click on the house for a virtual tour!---------->

Located west of Tampa Bay on Florida's Beautiful Sun Coast, this beautiful 3 bedroom, 2 Bath beachhouse can be your "home away from home" during your next holiday.

This historic cottage, originally constructed in the 1930's, is just what most people envision a beachhouse to be. Charming, cozy, and well appointed, our house has a warmth and beauty that will keep you coming back. Wash away your worries as you relax on your own private pool deck, overlooking the bright blue ocean. Take a walk on the white sandy beach, as pelicans fly overhead. And experience the warm crystal clear surf crashing softly over your ankles. The warm sunshine, sunbathers, and palm trees just add to your Indian Rocks experience. There is everything you need to enjoy a wonderful stay in sunny Florida. Our house is just minutes from shopping, fine restaurants, and all of Florida's favorite attractions.

Take your time and check out our website. There is lots of information to help you plan your stay. We think that you will be very happy here. Note that due to the growing popularity of our house, many dates book up to one year in advance. Although prior guests are given top priority, we will make every effort to accomodate your specific requests.